Eco-friendly Disposable Cutlery Manufacturer and Designer
Eco-friendly Life Starts with Eco-friendly Cutlery
E-mail:info@woodencutlery.cn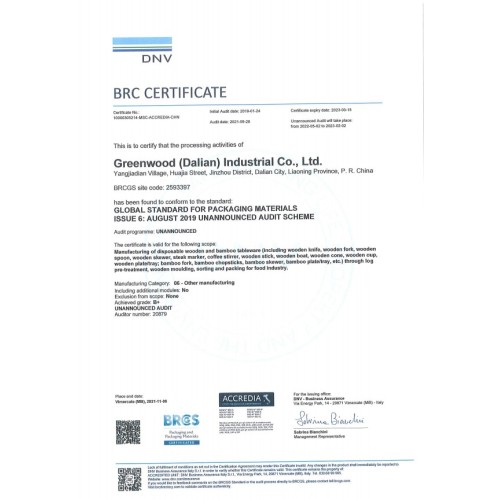 Period:
2020/9/28 - 2023/3/5
Certification bodies:
DNV GL Business Assurance Italia S.r.l
Greenwood passed BRC certification,the certification level is: Grade B +.

What is BRC Certification?
BRC are the British Retail Consortium, the company was founded in 1996 by retailers who wanted to harmonize food safety standards across the supply chain. BRC publish a family of standards referred to as BRC Global Standards and BRC certification is certified compliance with one of these standards. BRC Global Standards are used by over 25,000 certificated suppliers in over 130 countries worldwide.
The standards prescribe quality, safety and operational criteria to ensure that manufacturers fulfil their legal obligations and provide protection for the end consumer.
Are you still looking for a manufacturer?
Greenwood is Eco-friendly Disposable Cutlery Manufacturer and Designer
Are wooden forks better for environment plastic?

May 26,2023

In today's era, environmental protection has become one of our most important responsibilities and tasks. We need to reduce our environmental impact as much as possible in order to protect our planet and future generations. We are constantly working hard, and replacing the use of disposable wooden tableware is a convenient change.In contrast, using plastic cutlery has a huge impact on our environment. So, is wooden cutlery really more environmentally friendly than plastic cutlery?

Greenwood Exhibition News Flash

May 23,2023

From May 20th to 23rd, Greenwood at NRA exhibition booth 1682 in the United States. Today is the last day of the exhibition, Greenwood sincerely invites you to our booth, let's discuss the new development of Eco-friendly cutlery together.